Primary Source Packet: Letters of the 19th Century

Use primary sources in your classroom to analyze how 19th century letters can tell stories about the past and offer new perspectives about historical people and events.
Letters can shed great insight on the personal lives of their writers and provide context to better understand past eras. The handwritten letters in the packet and the corresponding guiding questions provide an avenue for integrating letters, and the stories they tell, into history curriculum.
Cost: $20   ORDER
Contents
Reproductions of 16 original letters in two forms—original and transcribed
Letters are from children, mothers, soldiers, businessmen, politicians, sisters
Introduction for the teacher
Guiding questions for each letter
Letters included:
Margaret Hess to Lawrence Taliaferro, Sept. 23, 1836
Ard Godfrey to Wife, March 12, 1848
Dr. Alexander Garnett to unknown, March 27, 1855
James J. Hill to Grandmother, Aug. 1, 1856
Emily Ayres to Sister, Aug. 24, 1856
Florence and Frances Griswold to Grandma, Feb. 24, 186[?]
Elisabeth Dearmin to Gov. Ramsey, Sept. 28, 1861
P. Sandford to James Lawther, Nov. 13, 1861
Thomas Christie to Brother, July 19, 1862
C.C. Webster to Ignatius Donnelly, Oct. 2, 1862
Madison Bowler to Lizzie Bowler, Oct. 5, 1863
Charley Goddard to Mother, Nov. 1, 1863
Lizzie Bowler to Madison Bowler, Aug. 21, 1864
Moses Many Lightning Face to Stephen Riggs, April 17, 1865
Mary Carpenter to Cousin Laura, Aug. 18, 1871
G.A. Egge to Gov. Pillsbury, March 12, 1877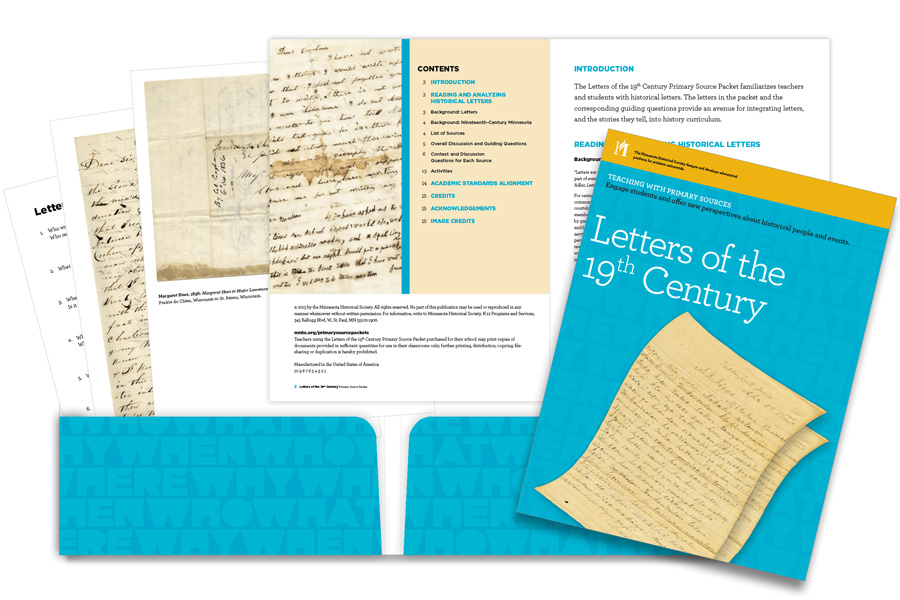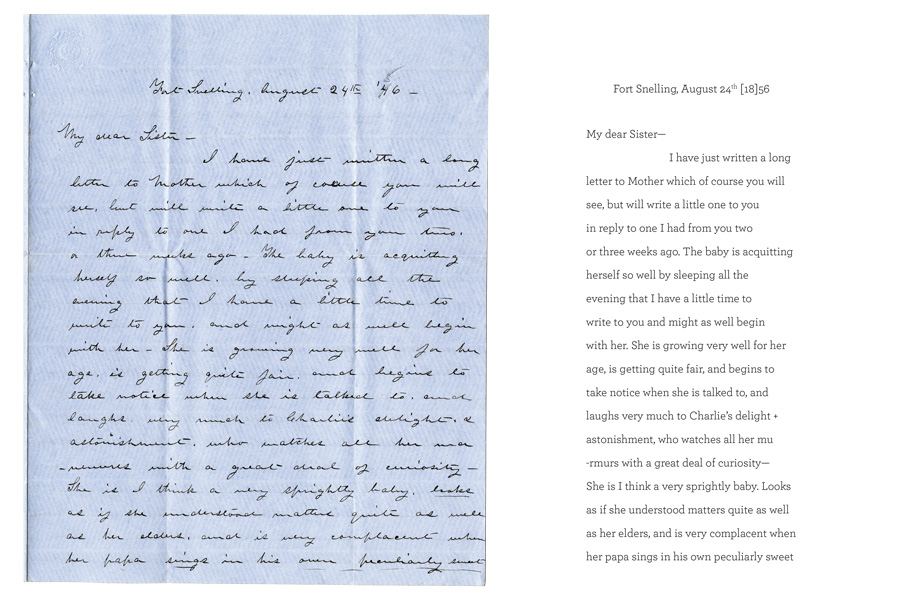 Emily Ayres to Sister, Aug. 24, 1856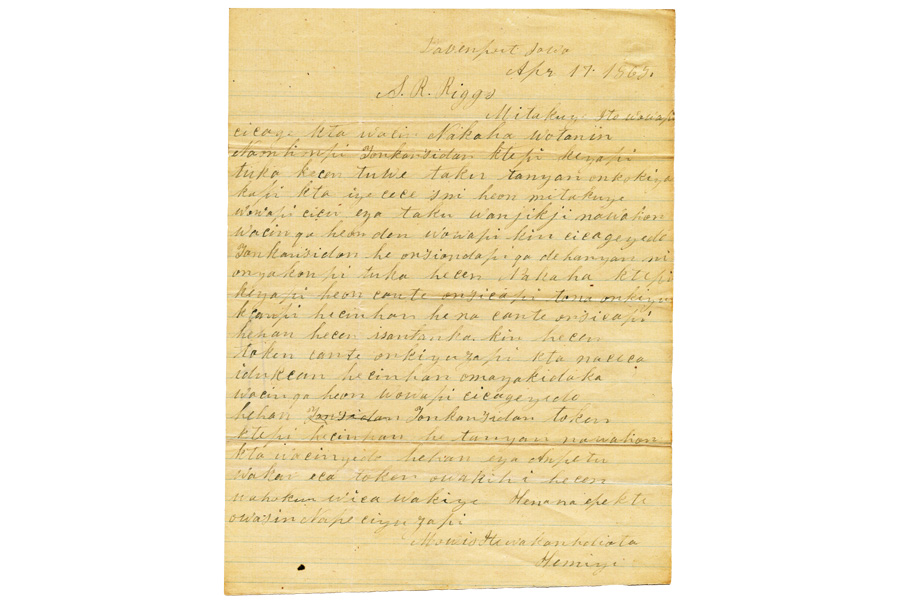 Moses Many Lightning Face to Stephen Riggs, April 17, 1865
Academic standards alignment
The Letters of the 19th Century Primary Source Packet is designed to engage your students and enrich their ability to read and analyze historical letters. Incorporating these letters, or adapting the questions and activities for other letters, into your teaching will help meet your curricular objectives and academic standards, whether they are content or skills related. 
We have aligned this packet with state and national standards and benchmarks for grades 6–12. The links below outline the standards alignment for this packet.
National standards
Minnesota standards
Related resources